Postdoc Job Announcement From President Hrabowski's Office
Fall 2017 Postdoc w/Dept. of Energy. App. Due 5/31. $65K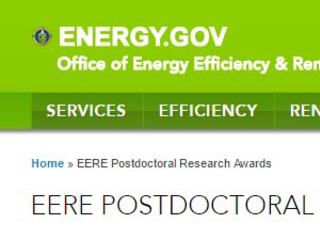 Dear Graduate Students,
President Hrabowski's Office asked us to share this opportunity with you. 
FALL 2017 POSTDOCTORAL RESEARCH AWARDS
The U.S. Department of Energy, Office of Energy Efficiency and Renewable Energy (EERE) seeks applications for postdoctoral research projects for the fall of 2017. The EERE Postdoctoral Research Awards offer recent Ph.D.. recipients the opportunity to conduct applied solar energy Research and Developemnt at universities, national laboratories, and other research facilities. Research must contribute to the SunShot Initiative goal to make solar energy technologies cost-competitive with traditional energy sources by 2020.
Learn more and apply at
www.energy.gov/eere/education/eere-postdoctoral-research-awards
Benefits include:
•Yearly stipend of $65,000
•Research allowance of $10,000
•Research mentor allowance of $5,000,
•Health insurance
•Possible relocation travel up to $5,000.
Requirements:
•Must be U.S. citizen or permanent resident
•Must complete Ph.D. requirements by May 30. 2017
•Must have had Ph.D. for no more than 5 years
•Must submit proposal and secure mentor/research project